At times you might feel overwhelmed with the glut of fresh food all at once. There's so much to do, and after awhile you might get tired of berries or peaches or whatever is in season.
One of my husband's favorite uses for the abundance of eggs we have in the spring and summer is angel food cake. I don't make it nearly as often as he'd like, mostly because I HATE cleaning the pan. If you grease the pan, the cake batter can't grab the sides of the pan and climb to the heights expected of angel food. You can't soak the pan after baking because it's a two-piece pan that allows water to escape. You have to use a two-piece pan or you'll never get the cake out in one piece. And on it goes, my litany of excuses.
I admit, it's a great use of eggs though. And after you make an angel food cake and have a dozen or so egg yolks left over, you make noodles. Right?
So I started thinking of other cakes that use up some of our excess. Other than angel food, I like making cakes occasionally. They're relatively easy to whip up, and they are a nice change of pace for using up some of our seasonal abundance. Homemade cakes are also free of artificial colors, flavors, and preservatives because they're made from scratch with natural ingredients.
Be sure to leave a comment at the end of this post and tell me which of these made-from-scratch cake recipes you plan to make using seasonal and good-for-you ingredients.
Just FYI, I don't hate bundt cake pans quite as much as I hate angel food cake pans. At least they'll hold water so I can soak them if needed!
Cakes with apples
Our apple trees are loaded again this year. Hubby and I aren't fans of applesauce so I struggle to find ways to use and preserve all those apples. Lisa at The Self-Sufficient HomeAcre turned her wild apples into applesauce, then used the applesauce to make this delicious
homemade applesauce cake with maple cream cheese frosting.
This
Spiced Apple Cake
from Piwakawaka Valley in New Zealand can be made gluten free or not; Dana gives substitutions for both the regular flour and the oats that are used in the original recipe. Dana baked this cake in her woodstove but there are oven-baked directions as well.
Cakes with berries
Michelle at SoulyRested forages blueberries every summer on her New England homestead. This recipe from her grandmom is just one of the ways she uses them. The
melt-in-your-mouth blueberry cake
is baked in cast iron.
Sally writes that she wanted a
strawberry-flavored cake with strawberry-flavored frosting
without using any artificial flavors. She finally came up with the best method to achieving the perfect strawberry cake - not just strawberry frosting, but strawberry flavor in the cake batter itself. Watch her make this cake on video at Sally's Baking Addiction.
Cakes with beets (yes, really)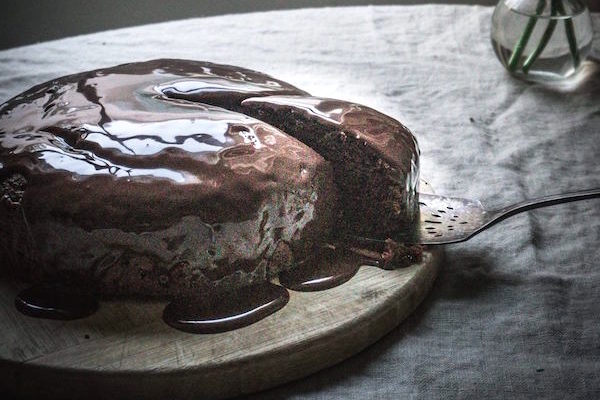 Beets lend natural color to this
chocolate beetroot cake
from Adamant Kitchen. This is actually a red velvet cake without artificial food coloring. I think you'll enjoy the interesting history in this post as well as the recipe.
Cakes with grapes
Grapes in a cake? Cake for breakfast? Well, why not. Any color grapes will work in this
grape coffee cake with crumble topping
that makes a special breakfast from Homestead Lady.
Cakes with peaches
Richi at Three Friends and a Fork recommends Alabama's Chilton County peaches for this
Peachy Keen Glazed Pound Cake
. This cake uses plenty of butter and eggs and, of course, peaches. Sometimes I wish I had a dairy cow so we could have as much butter and cream as we could ever want.
Cakes with flowers
This
natural confetti cake
from Homestead Lady uses foraged flowers (and maybe some from your garden too). Even though the flowers aren't as bright and colorful as a box of "confetti cake mix" fraught with artificial colors, this natural cake is still pretty enough for a tea party or a summer picnic.
Cakes with zucchini (and carrots if you have them)
You'll enjoy Lisa's story about how this
carrot zucchini cake with cream cheese frosting
came to be, and why it has zucchini in it.
Cakes with rhubarb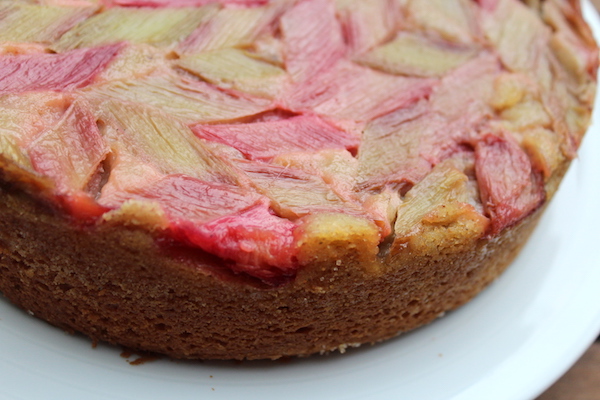 Rhubarb is a hardy perennial that will withstand the stomping of little boys' feet and keep growing. How do I know? My daughter has a plant or two in a spot that used to be a garden but is now her children's play yard. In spite of those little boys' abuse the plant comes back every spring.
This
rhubarb upside down cake
is how Ashley enjoys rhubarb at Adamant Kitchen.
Lisa makes
rhubarb cake and tops it with rhubarb sauce
as well. She gives the recipes for both in her post, plus some additional uses for the rhubarb sauce.
Cakes with citrus fruit
While you might not have citrus fruit on your homestead unless you live in Florida or California or some other warm-wintered place, this
Citrus Rum Cake
from Renz at Homemade Zagat looks scrumptious. (The only rum is in the glaze.)
Cakes with pumpkin and pecans
Katharine at Home's Cool uses pumpkin and pecans in her
Pumpkin Upside-Down Cake
. You can substitute pineapple and maraschino cherries for the pecans if you'd prefer a more traditional upside-down cake.
Honey
Honey is a homestead product too, if you're fortunate enough to have a hive or two. Use some of that sweet goodness to make
this chocolate honey cake
from Homestead Lady and celebrate Winnie-the-Pooh Day (or any day).
Fresh Milk and Eggs
Julie at The Farm Wife is lucky enough to have a Jersey cow (and I'm a bit jealous). She uses the
abundance of milk
to make butter, yogurt, cream and so much more. Her post has a link to a strawberry shortcake recipe that she tops with fresh homemade whipped cream. Yum!
Farm fresh eggs make the best cakes - and I've been told that duck eggs are even better in baked goods than chicken eggs. Angel food cake is a great way to use up a dozen eggs at a time (or almost a dozen, depending on the recipe you use. I use this
light and fluffy angel food cake recipe
from Allrecipes).
If you're still frantically trying to use up fresh eggs in the spring and summer, here are a few more suggestions:
How to Use All Those Homestead Eggs
and
Six Ways to Preserve a Surplus of Eggs.
All of these luscious cake recipes contain good-for-you ingredients and no artificial flavors, colors or preservatives. You can feel good about occasionally serving cake again.
This post and the images below contain affiliate links. You can read my full disclosure here.
This post has been shared at some of my favorite blog hops.


~~~~~

My hope is to inspire you, and to encourage your homesteading plans and your dreams of a simple, self-reliant, God-dependent life. You can follow me at:
Facebook | Pinterest | Instagram | Subscribe