What do you give the woman who loves a simple life?
Last year I suggested
10 Gifts for the Homestead Woman
. This year I've put together another list of ten useful gifts. Many of these would be helpful for someone focusing on self-sufficiency, simple living and preparedness - and aren't those some of the definitions of homesteading?
Some of the links are affiliate links, but they are products I use myself and love, or that I wish I had.
This post contains affiliate links.
1. One thing I really appreciate in the winter is a
tank de-icer
that keeps the horses' water trough from freezing. Breaking ice with a sledge hammer is not my idea of fun. I refill the dogs' and chickens' waterers from this tank as well. There are several types of heaters and de-icers, so be sure to get the right kind. My Rubbermaid water trough requires a caged tank de-icer.
2. A bucket of wheat berries and a grain mill such as the
Wonder Junior Deluxe Grain Mill
. A grain mill gives you control over the quality of the food your family eats as well as boosting your preparedness and self-sufficiency.
3. A
mortar and pestle
is handy to grind herbs and spices. I also use mine to grind my Himalayan pink salt into a finer consistency.
4. I love my
Sloggers
low-top rubber shoes. I wear mine in the garden and the barnyard, and in all weather except deep snow, but they do make boots as well as shoes if you have more snow than we do.
Sloggers come in many colors and patterns, and are so easy to rinse off with a garden hose. Mine are two years old and are still in excellent condition, unlike the cheap rubber boots I used to buy that never lasted through the winter. How about some warm winter socks to go with these?
5. A
mushroom log
to grow mushrooms at home. Add a book such as
The Essential Guide to Cultivating Mushrooms
.
6. Learn how to grow a more-productive garden all year round with books such as
Four Season Harvest
by Eliot Coleman,
The Year Round Vegetable Gardener
by Niki Jabbour, or
Saving Seeds: The Gardener's Guide to Growing and Storing Vegetable and Flower Seeds
by Marc Rogers.
7. And for the produce from that year-round garden, a food dehydrator will preserve the garden's bounty. I use the
L'Equip
and love it. Another excellent brand is the
Excalibur
.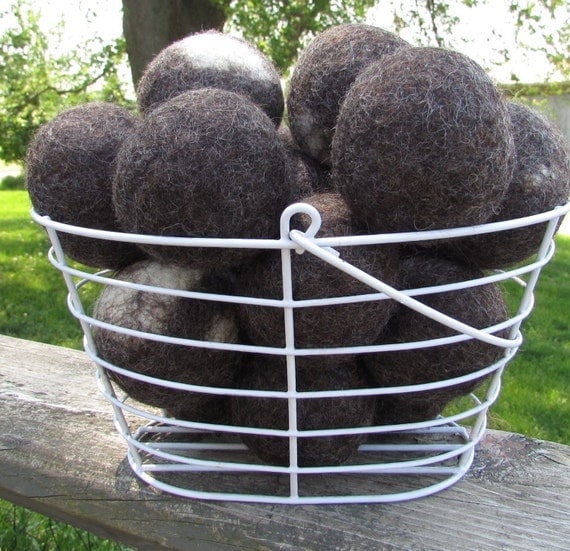 8.
Woolen dryer balls
from Sandra at Clearwater Farm, one of our weekly Simple Homestead blog hop co-hosts. Woolen dryer balls are a natural alternative to using chemical-laden dryer sheets; we've been using dryer balls for years now.
9. Although I'm not a coffee drinker, I do love a mug of hot cocoa during the winter. Last year a very dear friend gave me a mug in what she knows is my favorite color (turquoise, in case you're wondering). The woman in your life might enjoy something similar, or a
mug with chickens on it
such as this one,
perhaps?
10. Here are the stocking stuffer ideas I promised you:
-- Print out her favorite verse of Scripture in a fancy font on pretty paper (or by hand if you can do calligraphy) and frame it.
-- A jar of natural udder balm for her goats or cow. Need a recipe so you can make it yourself? Here's one from
the Prairie Homestead
.
What's your idea of a perfect homestead gift? I hope you'll leave a comment and share a gift you'd love to receive.
.
You might also enjoy:
Gift Ideas from the Homestead
10 Gifts for the Homestead Woman
The Third Annual Gift Guide for the Homestead Woman
This post contains affiliate links. If you purchase a product after following one of these links I may receive a small commission, but this does not affect the price you pay. Read my full disclosure here.
This post has been shared at some of my favorite blog hops.


~~~~~



My hope is to inspire you, and to encourage your homesteading plans and your dreams of a simple, self-reliant, God-dependent life. You can follow me at:

Facebook | Pinterest | Subscribe via email